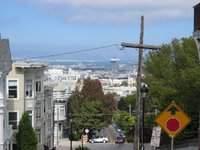 This week was fortunately a bit calmer than last week, but still full of fun and adventure. Another concert, another SF LAC party.
Here's what I learned this week:
Raclette grills make for delicious dinner parties.
Two different mechanics in San Francisco can quote two wildly different prices for replacing a clutch. Royal Motors estimated $1,500 and Fukada Auto Service quoted $600.
Pear and raspberry. A nice pastry combination. An even better living room combination.
Origami Easter eggs are easy to make and come out extremely well.
Scissors for Lefty is on the way to becoming the next big thing. There were real-life teenie-bopper fans at their NoisePop show.
Lattes may cost three times more than plain coffee, but they also taste three times better.
Deco Ghetto is an actual neighborhood.
The Yaris is an adorably Euro car that will soon be sold here in the US. When that day comes Rob and I may trade in the Miata.
L'Occitane Almond Oil Shower Gel is really lovely. But it still pinches a bit to spend $20 on soap, even fabulous soap paid for with a gift card.
Pink alstromeria and ranunculus are a fun floral combination.
Drawing fuzzy chicks on pink notepaper is good for your emotional well-being.
San Francisco had 24 days of rain in March. I can't wait for those "April Showers."
There is something entirely appropriate about the fact that my neighborhood used to be a circus.
Happy end of March to you!