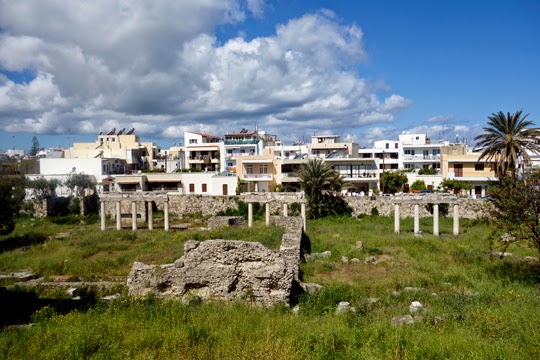 What to See, Eat and Wear for a Week on Kos, Greece in Spring
Kos is a sleepy Greek island in the spring. A perfect spot of plenty of ancient ruins and Byzantine history surrounded by small farms and deep blue sea. In early April, the touristy parts of the island are still pretty well shut down. With weather in the low 70's every day and plenty of wildflowers, you get a local's perspective on the Dodecanese.  Here's the EmilyStyle guide to Kos for future reference!
Basics
We took the ferry over from Bodrum, Turkey to Kos, but it is also easily accessible from its small international airport. Rob and I rented a very affordable apartment in the north part of town toward Lambi Beach. Not a glamorous Aegean resort by any means, but managed by a really nice person, with a grocery store downstairs and a balcony. A place where you get a taste of local life! We rented a scooter for one day and bikes for the rest of the week. The first thing we noticed in Kos was how super friendly everyone was and with such good English.
Sights
Food
Cafe food in Kos was SO good. We ate our way through a lifetime's worth of meze and mixed salad platters with tzaziki, dolmas, olives, feta, tomatoes, etc. Sweet Greek coffee is plentiful and inexpensive, but most of the locals drink iced "freddos." Fresh gyros with meat, french fries, tomatoes and tzaziki all over the island for only $3. It wasn't easy to find the produce stands, but when we did – the sweet local oranges were the best. The local beer, Fix, had a special dark edition that was really tasty and Greek wine has become surprisingly good.
Wear
Kos is not generally a fashionable island. Sweatsuits with a puffy vest seemed to be the local favorite even though it was hardly cold. The spring weather was fairly moody, so layers were key. I loved having a pair of go-anywhere tall flat boots for hiking through the shoulder-high wildflower meadows and riding around on the scooter. Take a comfy pair of jeans, a white bohemian top, a loose nautical stripe shirt, a light jacket, a pretty red dress for a fancy day in Kos Town and a black bikini that wont get dyed by the hot spring water.
Shop
I didn't buy any souvenirs on Kos but was tempted by the leather sandals made in Greece and beaded bracelets.