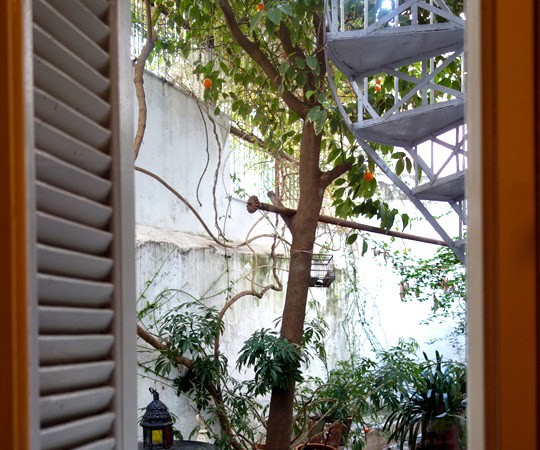 Welcome to Athens, Greece! (And My Battle With Ancient Plants at the Acropolis)
Rob and I flew from Kos to Athens on Sunday night. It's only a 30 minute flight and Aegean still manages to serve you free cups of coffee and soft cookies during it…that's service! Our airbnb hosts picked us up at the airport and took us on a tour of their favorite sights by car on the way. All our apartments on this trip so far have been conveniently located, clean and a bit quirky – but this is our first beautiful apartment. Our host is a civic booster who turned her architecture and interior design studio into a rental after the Greek economic crash. It's inspiring to be in an artistic home with a real kitchen and even a tiny garden.
On Sunday morning, we set out to see the Acropolis. A quick 45 minute walk from our apartment to the heart of Athens, with pretty pedestrian plazas.
This photos sums up Athens for me so far: stylish with an edge, four-story tan apartment buildings with balconies, sidewalk cafes, interesting murals/graffiti, shopping and ancient ruins.
We bought the 12 Euro museum pass for six Acropolis ancient sites and hiked up the north slope of the hill, which had the same wildflowers we loved in Kos.
As I quickly found out, some of those lush plants are actually stinging nettle which has no problem making contact through thick black tights. Ow!
As a result, we will forever refer in navigation to the Cave of Apollo as the spot where I took my pants off. Technically, I removed my tights to get to the stings on my knee, but I don't think those tourists on the next mountain could tell the difference. Tights back on, I continued hiking and the burning stopped fairly quickly. Apollo is the god of healing, after all! Finding a wild tortoise also helped:
Lots of tourists at the top of the Parthenon, especially British and American families with small kids and teenagers on school trips. Yes, Rob and I accidentally coordinated our outfits for the day:
The Erechtheion was also a nice sight.
From the top, we had a view of the elegant roof gardens in the Plaka neighborhood, complete with olive trees and swimming pool.
Back down the hill from the Acropolis, we briefly stopped in at the Roman Agora, site of an ancient public restroom. Wandered from there through the antique markets. The combination of Sunday flea market with it being Palm Sunday seemed to make the narrow shopping streets extra busy.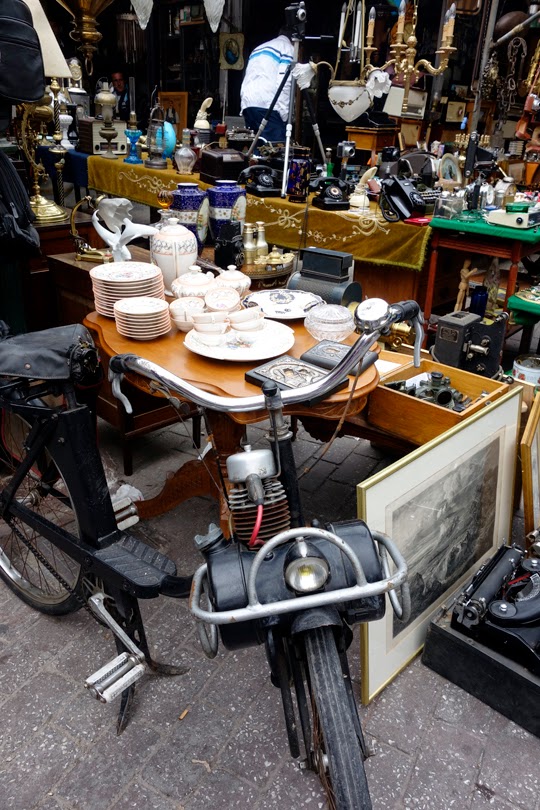 Found a few things we liked, but didn't buy. Rob wanted a vintage motorcycle and I liked a lot of the art.
Snack of warm Greek donuts with honey and cinnamon from a food cart.
Our final sight for the day was the Ancient Agora, a city dating back to the 6th century BC. It's a quiet and green refuge from the bustling heart of Athens.
In addition to the extensive ruins, there's a museum in a restored 2nd BC building with models of the area, statues, vases and interesting pieces of history including the ancient jury selection lottery system and ballots from the ostracism process where citizens voted to ban the least-liked politician from the city for 10 years.
Amazingly, Rob still had a spring in his step after all this exploring!
We walked back home at 6:00 and stocked up from the produce market down the street. I made an authentic Greek dinner of stuffed peppers and a tomato cucumber salad.