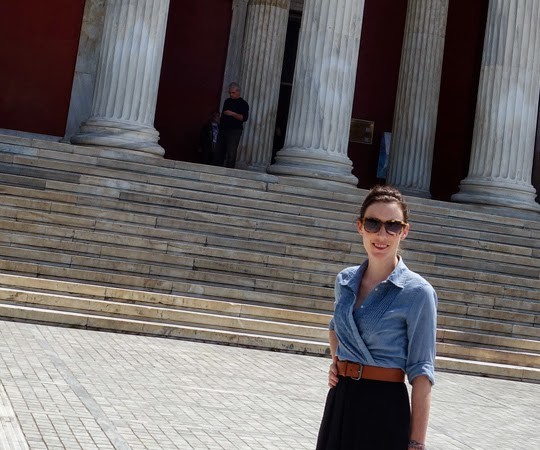 Lunch at the National Archaeological Museum in Athens, Greece
It's great to be back in a city for a week. The bustle, shopping and museums are a fun change of pace from the sleepy Turkish/Dodecanese coast. On Monday, Rob and I walked to the National Archeology Museum a few blocks down from our apartment. On the way, we grabbed a koulouria from a street vendor. The round sesame seed pretzel is almost exactly like the Turkish simit. I wonder which came first?
I considered signing up for a life of museum heists once we walked in to the National Archeology Museum. All the pieces of pottery, gold, stone carvings and metalwork dating as far back as the 6th century BC were beautiful. Here's a plan for reviving the Greek economy: create an artisan network making the lovely designs the country used to produce.
There was a great exhibit on a shipwreck excavated by Jacques Cousteau in the 1970s, including several marble statues that were half-corroded from being burried in silt for thousands of years.
Hello, adorable startled hedgehog.
It took about two and a half hours to walk through the museum at a fairly brisk pace. Since it was a nice day, we opted to eat in the sun at the cafe in the plaza instead of the less expensive basement museum cafeteria.
A stop at the grocery store for supplies on the walk back. I was joking on a conference call last night that this trip really should be called the "Plain Yogurt and Old Rocks Tour" since those two things represent the majority of our experiences!
It's nice to sit in this window office working and watching people walk through the pedestrian plaza all afternoon. That's a video store across the street and it does good business.