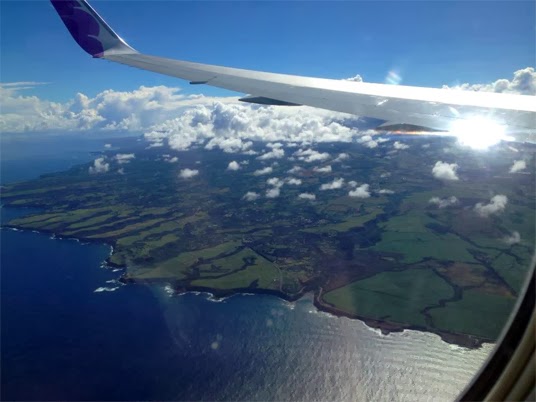 Our 20-day adventure in Hawaii started with a 5:00am wake-up call this morning. Relatively stress-free process of getting through airport security with my parents and then a nice four and a half hour flight on Hawaiian Airlines. They give you free food, drinks and even an actual metal fork on the flight – imagine that!
Jean took this photo from the plane when she landed two days earlier. What an incredible view of the island:
Jean and Trent picked us up at the airport and we drove into Kihei to start the vacation. Chips, hummus, beer and naps all around. In the afternoon, Jean and I took a walk down to the ocean with Ev:
We stopped for a shave ice (mango and coconut) on the walk back:
Our hostess, Haley, arrived home in the afternoon from the school where she teaches science. Jean's college roommate, she is generously letting us all stay at her house while she has Christmas in Northern California. It was time to start cooking before we knew it. This pineapple was super sweet:
We made brown rice bowls with grilled swordfish, shrimp, poke and other delicious ingredients. I'll share the recipe separately. It was a perfect first meal for our first day in Hawaii.
We ate out in the garden, with doves and frogs making noise in the trees. A small gift exchange and then she departed for her evening flight.