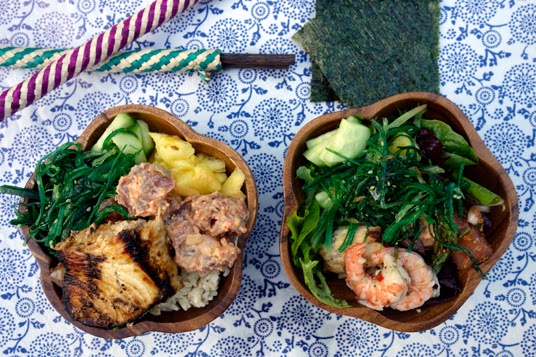 Recipe: Hawaiian Rice Bowls
Our first dinner in Hawaii was a make-your-own rice bowl feast featuring flavors of the island. Inspired by one of my favorite dishes at Pacific Catch in San Francisco, this is a healthy and easy way to feed a large group with the help of a few prepared dishes: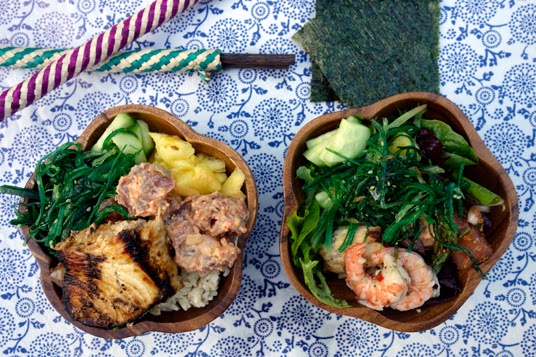 Each bowl starts with a base of brown rice and a green salad tossed with a basic vinaigrette. Healthier eaters will go for mostly salad, heartier for mostly rice.
To top that base layer, make a buffet of various toppings to your group's taste. We served:
fresh pineapple
cucumbers flash pickled in rice vinegar and salt
seaweed salad (Costco)
two kinds of poke (Costco)
cold shrimp with cilantro and lime (Costco)
chunks of pan-grilled swordfish with sesame oil and lime
At Pacific Catch, they also include radish sprouts, avocado, slices of fresh ginger and shredded nori. If you don't have access to poke and seaweed salad from a local asian market or sushi restaurant – you could leave them out easily.
Our finished bowls were topped with a quick ponzu sauce I put together with lime juice, orange juice, soy sauce and fresh ginger. Sheets of nori seaweed on the side acted as a "tortilla" to wrap up juicy bites.