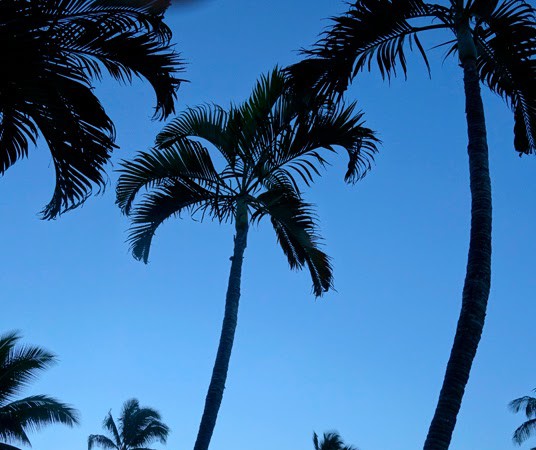 Hawaii: Early Days in Kihei
We are settling into the pace of life here in Maui. Everything is so much slower (and warmer) than San Francisco. Our neighborhood is a palm-filled suburb straight out of the movie The Descendants. We've been waking up pretty early with the little nephew's schedule.
Mornings have been filled with local Maui Grown Coffee and oatmeal topped with tropical fruit and macadamia nuts.
After Ev's morning nap, some or all of us head down to a beach for a swim. Ev is an obsessed water-baby and happiest when sitting in the surf. The rest of us spend most of our time hiding our Scottish skin under the umbrella.
Afternoons are for napping, reading and walks around the neighborhood picking up plumeria blossoms that have blown off the trees. We've been having early dinners made with local ahi tuna, papaya and all kinds of tasty things each night.
On Saturday, Jean and Trent's friends from Palo Alto Zach and Amanda arrived – fresh off a spontaneous beach wedding! They've been camping in the backyard of our "compound" and eating breakfast and dinner with the crew. Today, they went with us on a snorkling adventure that you'll read about tomorrow.
Only one roadbump so far, I got a bad infection on Saturday and spent Sunday inside resting while the family went to Lahaina. Thanks to the quick work of the Urgent Care Maui team – I'm back in business!