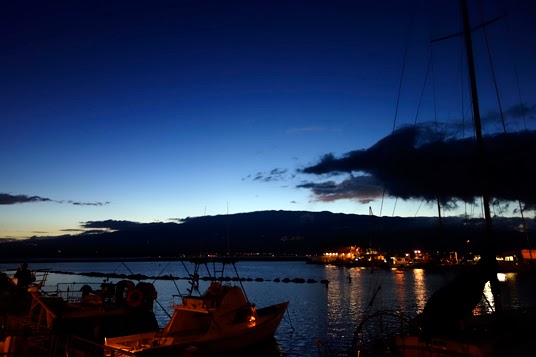 Hawaii: Snorkeling in Maui
On Monday morning, we woke up at 5:30 (ugh!) for a snorkeling cruise off Maui. The sun was just starting to rise over the island when we arrived at the harbor, bustling with tourists locating their ships for the day.
Our small boat run by Aloha Blue Charters looked almost exactly like the S.S. Minnow from Gilligan's Island. We eventually got all 31 passengers on board and headed out to Molokini. Sunblock application as we spotted humpback whales along the way.
The small japanese children were the first to be seasick, but definitely not the last. Rob and Jean had good showings as well. Poor guys! We arrived at Molokini and got ready to jump in the water (that's the newlyweds Zach and Amanda in the background).
Snorkeling was a lot of fun, but challenging with the choppy water. We borrowed Haley's waterproof camera for the adventure.
After an hour in the water it was time to get back on the boat and jet over to a cove near the harbor where we explored "Coral Gardens."
The sea was much calmer here and the reefs much more active. Jean liked it:
And I learned to dive with my snorkel mask on:
It's nearly impossible to photograph the fish – but I promise that we saw all kinds, along with bright red pencil sea urchins.
We made it back to harbor at noon – with more seasickness among the passengers and more whales. Thankfully, my ironclad sea legs kept me from any hurling off the sides.
Back home, we showered, took naps and read. In the afternoon, four of us walked down the beach with the baby. Meant to be a short stroll, we spotted a bunch of sea turtles and dolphins in the water and stayed through the sunset. And, with that, I'll stop writing at the request of my mom and sister who want help with the puzzle.