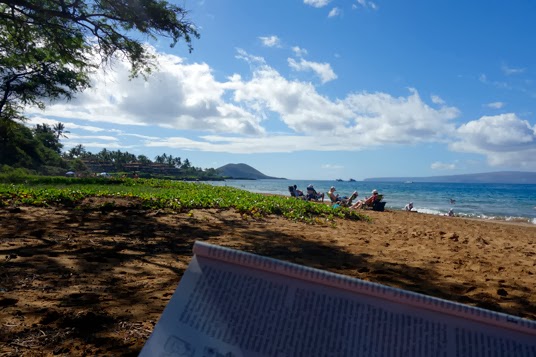 Hawaii: Christmas Eve with Sea Turtles
Happy Christmas Eve from Kihei! We had a great busy day at the beach to celebrate the holiday. Rob and Trent headed off before us by bike – they just rented two road bikes for the week. The rest of us drove over and found a shady spot under a big acacia tree at Po'olenalena. We had our traditional, sand-filled New Yorker magazines with us.
The water was crystal clear and the weather was breezy.
When Rob and Trent arrived, they hung their bikes from the tree and joined us in the water.
Rob found a coral reef nearby that was populated with a lot of sea turtles. One that was about four feet wide swam right by me in the waves! Rob took my mom out snorkeling to see the turtles and then Jean. The flowers along the beach were so pretty.
We had sandwiches under the tree and then got ready to pack up to head home.
Rob and Trent headed back on their bikes and we decided to drive to the end of the road to see the lava fields.
We stopped at a popular taco truck on the way back to Kihei.
Red snapper and pulled pork tacos, along with a root beer float:
Back at home, we had long naps and then took a walk down to the beach in the evening. It was fun to see the tropical gardens decorated with Christmas lights.
Our hostess, Haley, made a gorgeous Christmas tree out of driftwood and lava rock.