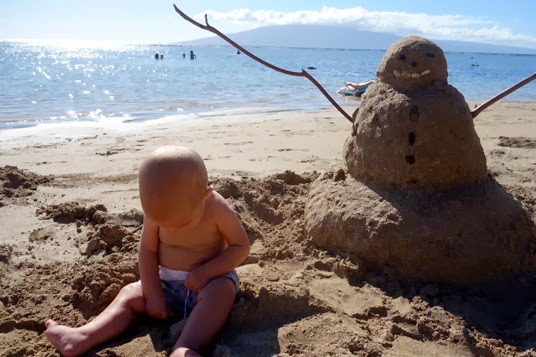 Hawaii: Christmas Day at Lahaina
Merry Christmas from sunny Maui! Rob and Trent went off this morning for a 74-mile bike ride around the south west part of Maui (I'll share those details later) and the rest of us were very lazy at home – making calls back to all our siblings and friends on the "mainland."
After the guys returned home and we had a big brunch together, Mom, Dad, Jean and baby Ev and I drove over to Lahiana for some beach time. Ev was too excited to be on the sand to pose for a photo with the snowman:
Puunoa Beach is a perfect "baby beach" and was full of families celebrating the holiday together. A coral reef offshore blocks any kind of wave and leaves a warm shallow lagoon of water perfect for little ones:
Jean and Mom set up an umbrella in the shallow water and Everett was in heaven splashing around. Dad and I sat under the shade of a big row of tropical almond trees:
The shallow lagoon is also home to patches of tiny coral reefs that rest just a few inches under the surface. It was so clear that you could spot fish while standing in the water.
After our first swim, Mom and I walked over to explore the nearby Buddhist temple.
The Lahaina Jodo Mission was founded in 1912 by Japanese immigrants who had come to Hawaii to work on sugar and pineapple plantations. A 12-foot bronze Buddha was added in 1968 and is the largest of its kind outside of Japan according to the display.
There is also a cemetery situated in the sand dunes across the street with memorial stones in Japanese. It's only a few feet away from the ocean.
This was a fun historic sight in Lahaina that isn't often mentioned in travel guides. With the incense burning, it felt like I was in Japan again.
Back at the beach, we went for another swim before heading home. My 84-year old father not only swam with us, but snorkeled! Quite impressive. (Baby Everett really does smile delightfully, just not without having us work hard to earn it. He tends to look quite serious for someone only 240 days old.)
On our way out, we spotted humpback whales just beyond the reef. You can (kind of) see their spouts on the horizon at the right side of this photo:
After leaving the beach, we drove around the various marinas and boatyards at Lahaina for Dad, who is always looking for his next fixer-upper. Ev got sick from drinking too much saltwater at the beach – which was bound to happen eventually to the water baby. As a small girl, Jean rarely had a day at the beach where she didn't end up puking from taking in too much water. We stopped for ice cream while he and Jean recovered from the shock.
Back in Kihei at 5:00, just in time to see all the hotel maids who had to work today arriving home by bus. Poor maids, I hope they were tipped generously for having to work on Christmas.
All day in the car, we listened to the local KPOA radio station playing Hawaiian versions Christmas songs. It's pretty hilarious if you want to listen online. Our favorite was 12 Days of Christmas complete with eight ukuleles, five big fat pigs and a mynah bird in a papaya tree. Mele Kalikimaka to you and yours!