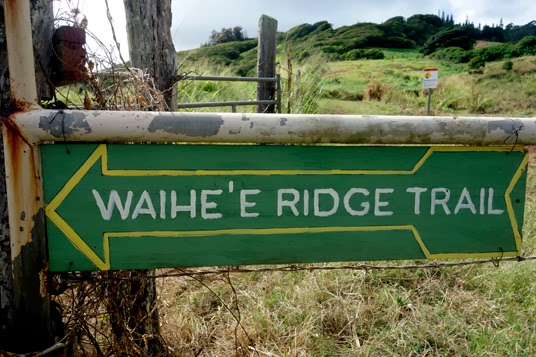 Hawaii: Hiking the Waihe'e Ridge Trail in Maui
We took a day off from the beach today and headed up to the hills on the north side of the island for a hike. The Waihe'e Ridge Trail started up in the hills past a few farms, overlooking the ocean.
Jean, Trent, Rob and the little baby came along on the 4.5 mile trail.
The hike up is basically straight up. You pass through a conifer forest, fern valleys, guava trees and lots of mud along the way.
Beautiful purple fiddlehead ferns were growing along the path.
About half way up, you get a view of the center of the island with both the west and east shores.
Pretty soon, you're in the mist and there's a nice cool breeze blowing across the muddy trail. The summit is shrouded in the same thick fog – it felt a lot like being back in San Francisco!
All that mud becomes an even bigger challenge on the way down. Everett slept comfortably while we slid back down the ridgeline.
Jean got in on the hugging tree action.
We wrapped up the hike in about three hours. Sweaty and covered with red Hawaiian mud – we stopped for vietnamese sandwiches in Kihului on the way home.
Lots of hydrating and naps back at home in the afternoon. I was so tired that I fell asleep face down, still covered with mud, on the bed.
In the evening, we all dressed up for a sunset photo session by the ocean. It took some effort to get little Everett to smile for the camera.
Another pretty sunset at the beach: