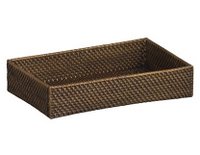 Dress your office in wicker and porcelain
Ah, the office! My home away from home. The start of summer serves as a reminder as to just how much time you spend at work. Luckily, I just finished a minor office remodel and my space is looking pretty nice. Here are my tips for a happy cubicle:
Wicker baskets – This basket from Crate and Barrel's bath department serves as an "inbox" on my desk. A fun tray could work too.
Candy – I'm always amazed at how effective a dish full of candy is for promoting office gossip. Offer up a few Hershey's kisses and you'll suddenly be kept completely in the loop.
Candle – Ross is my source for inexpensive office candles.
Beta fish – My beta is in a big hurricane glass (sort of like this one) with pink marbles and a green plant. It's nice having an "office buddy."
Bulletin board – Post important notes as well as photos and other happy reminders of your life outside of work on a framed bulletin board. I hung mine vertically to make it more appealing.
Calendar – An office essential! Avoid these and find a fun traditional calendar. I have a vintage fashion poster calendar up that was a gift from Margaret.
Vases – Add a splash of color with some bright porcelain vases. It would be lovely to have a plant too, but my office doesn't have enough light.
Mirror – A round mirror breaks up the squareness of your desk and walls. Framed art is also a great choice.
Coat hook – Pick one that is fun and matches your style.
Rug – I happen to have an oriental rug in my office. If you can, do!
Remember, you are spending 40+ hours a week at work! It makes sense to invest a little time and energy into your environment. You can use this famous Vogue office as an inspiration. Do you have a gorgeous office? Send me a photo!