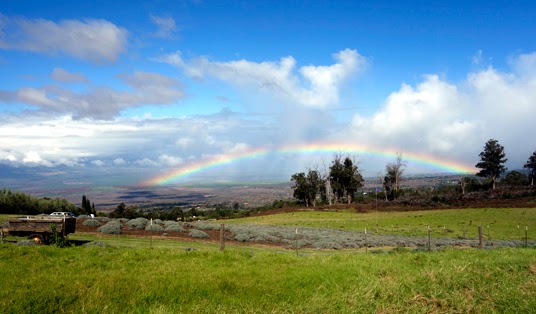 Hawaii: Exploring the Maui Upcountry
We took another day off from the beach today and headed to the "upcountry" to explore. Rob and Trent took off in advance on their rented roadbikes and the rest of us left by car after Everett's morning nap. We encountered heavy rains in central Maui that turned into a massive rainbow once we reached Kula at 4,000 feet up.
Our first stop was the Ali'i Kula Lavender Farm. This little farm is lovely – super well decorated and well marketed (which I appreciate as a marketer myself) – but so unreasonably pricey. It's $3 a person just to get to the farm, which itself is mostly a gift shop selling $20 lotions. Walking tours are an addition $12 – we passed and instead enjoyed expensive lavender scones, jam, brownies, lemonade and coffee on the patio. They were good scones:
While waiting for the boys to arrive by bike, we walked the grounds and marveled at proteas the size of dessert plates.
You can see both the east and west shores from the farm.
There are well-tended raised vegetable beds along the way.
And many variations of lavender along the paths. The majority of the farm's lavender plants weren't blooming during our visit.
The proteas were very pretty, like Dr. Seuss style artichokes.
We left the farm after about 30 minutes and drove to Kula Bistro in the small town for lunch. Our dishes were really good – especially the pizza!
Rob and Trent departed to ride back to Kihei by bike. The rest of us took the long way home, with our first stop at the really darling Holy Ghost Catholic Church in Kula.
The teeny octagonal church was built in 1894 by Portugese immigrants who had come to work on the sugar plantations. Inside, there is a beautiful altar and stations of the cross carved by an Austrian master artist.
It is meticulously maintained by the parish, down the holiday leis decorating the Virgin Mary.
Churches and spam, two dominant features of Hawaiian culture not included in the Beach Boys lyrics!
We wove our way down through Makawao and Pai'a in the drizzling rain, stopping to check out a few more churches along the way. Lazy afternoon back in Kihei. We worked on the puzzle, I caught up on my journal and we had sweet potato tacos for dinner.