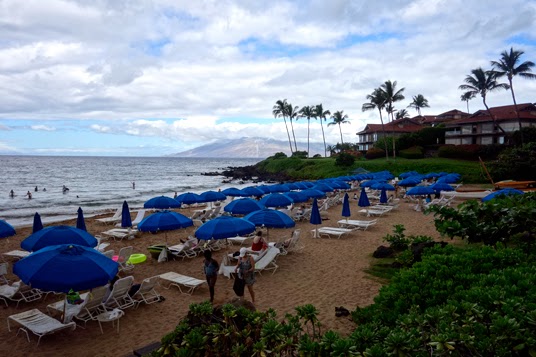 Hawaii: Beach & Badminton
We headed back to the beach this morning. Jean rode over on of the rented bike and the rest of us took the car to Polo Beach in front of the Fairmont Hotel in Wailea. It's nice that there are big public parking lots and clear paths to the beaches in front of Maui's fancier hotels. It was a bit cloudy out, but still great for swimming and reading New Yorkers.
After a few hours at the beach, a big tropical rain storm started up. It was pouring while everyone rushed to pack up their beach supplies. Little Everett was enthralled by the scene.
Since I knew I wouldn't have as many photos to share today with the clouds and the rain, I took some of the textures we saw along the way. This is a group of bright tropical plants in front of the Fairmont:
The mossy trunk of a palm tree.
Hot pink bouganvilla. It also grows in a coral orange and white here along with the typical red and purple.
Flowering red ginger.
Finally, a dark purple hedge that we passed on our way to the beach at sunset.
Earlier in the day, Jean and I picked up a badminton set. We've been playing non-stop ever since. On Hawaii's short lawns, it reminds me so much of the tennis scene at Windy Corner in A Room with a View.
We played until sunset and then returned home for a big spaghetti dinner. Rob and Trent are going to ride bikes up to Haleakala tomorrow morning. According to Strava, its the world's longest paved climb. Good luck to them!