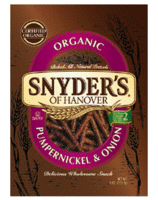 Things I love today: Pumpkins and Pumpernickel
I have recently discovered two new food obsessions. The first is the pumpkin spice milkshakes at Jack in the Box right now. All the deliciously weird goodness of pumpkin ice cream in a yummy shake form. I don't care that it is an artic tundra outside, I am craving one of these puppies big time. Now I just have to figure out where the Jack in the Box is in San Francisco.
The second food obsession is Synder's of Hanover's organic pumpernickle and onion pretzels. The sound totally gross but, trust me, they are delicious and perfect for a cold and foggy day. Plus, they are organic and that makes them really good for you…right?
Like french fries in a chocolate milkshake, I wonder if my pumpernickel pretzels would be really good dipped in a pumpkin milkshake?