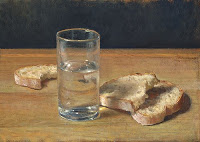 I suppose it is the side effect of watching The Pianist, John Adams, the Story of Stuff and Darjeeling Limited all within 48 hours combined with the general US economic melancholy and the apartment being cluttered…I want to simplify. I keep thinking of that quote from Say Anything:
I don't want to sell anything bought or processed, or buy anything sold or processed, or process anything sold, bought, or processed, or repair anything sold, bought, or processed.
Those largely empty rooms in John Adams looked so appealing. Just a sofa, a chair, a book and a fire. A nice garden outside. A warm blanket. Cooking with eggs. Wine in a handmade glass. Its all about the quality of a few good items, not the quantity.
We do fairly well already; with only one car and a small apartment. We have too many books and too many clothes. I have too many art supplies (can you have too many art supplies?) and too many vases. Pretty soon we'll have all the wedding presents to contend with too. Although, they'll go solidly in the quality column.
I'm embarking on a de-crapola mission this week. Maybe you want to join me? I'm cooking lunch and dinner from scratch, avoiding buying stuff I don't really want and cleaning out the stuff I already have and don't want.
I'm going to start tonight with the center of it all: the hall closet. This closet is full of linens, cleaning potions, old tablecloths, random tools and wires, parasols, scraps of wrapping paper, etc. Everything I don't throw away will go to the charity thrift store. I'll take before and after photos to share.