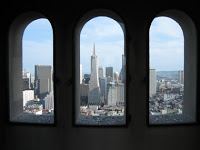 To Do: Book a Hotel in San Francisco
Anne wrote in with a good question about visiting San Francisco:
I was wondering if you could recommend some cheap (but nice) hotels or b&b's for me. My husband and I would like to take a trip in mid June to San Fran. We would be coming into the the Oakland Airport. Not renting a car, so we would need a hotel close to the BART line. I guess maybe around $100 a night or less?
I usually recommend that people book a hotel in San Francisco through Priceline. Choose a boutique level or four star hotel in the "Embarcadero/Union Square East" area and enter your price bid. You can get rates around $75 during the off season and around $100 a night during the summer.
All the hotels in this price range and area will be pretty nice. I've stayed at the Monaco and a couple other places in the city through Priceline. You'll either be around Union Square or over near the Ferry Building, both are convenient for getting around. And you're close to the three downtown BART stations for getting back and forth to the airport.