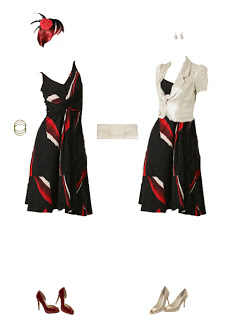 What to Wear: Out in Paris
This shopping challenge was one of the toughest I've done so far! Lucy* is going to Paris in May and needs one dress for two big nights:
Ok, so it's always been a dream of mine to catch an opera and a great show in Paris. And I have convinced my hubby to go along when we're there next month. The recommendations for attire at the Moulin Rouge are: "Elegant attire required (tie and jacket not necessary): no shorts, no short-pants, no sport shoes, no sportswear." Which is pretty funny actually. As for the opera. I don't care what anyone else is wearing. I just need to convince my hubby it's important enough to haul it there. I'm up for anything. Shoes must be high and hot is all I ask.
For the sake of budget and luggage, I think it would be best to pick one dress and then match it with two sets of accessories. I think the brits say "tart it up."
Dress – This red and black number is from L.A.M.B. It's a splurge at $280 but you could definitely wear it again.
Hair Clip – If you can't wear feathers in your hair at Moulin Rouge, where can you? This clip is from a goth store for $6, or you could make your own with a glue gun.
Shoes – They don't come much more "high and hot" than red patent leather platform peep-toe pumps.
Bracelets – Basic gold bangles are a nice compliment.
Clutch – From Forever 21.
Blazer – Switch the outfit to opera-mode with a shimmery cropped blazer.
Shoes – Ivory peep-toe shoes are just the right amount of "demure."
Earrings – Pearl drops.
Le sigh! I want to go to the opera in Paris. Maybe Lucy will send me a postcard.
*name replaced by request