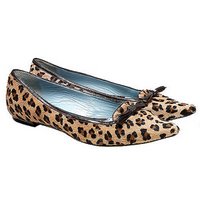 Shopping challenge: Comfy shoes
My hip has been aching lately. I think it's from too much city walking and too much rock climbing. So it's time to put the four inch heels away temporarily. Instead, I am going to find some comfy but cute shoes.
Duck boots – Growing up in California, I had never even heard of duck boots before I moved to Ireland. One of my roommates in Dublin was from the East Coast and swore by her duck boots when the weather turned rainy or icy. Plus, they kind of look cute with a pair of jeans, wool sweater and pea coat.
Kitten heels – I love kitten heel shoes but they can be really hard to find. This sale pair from Nine west has a little more flair than the standard black-pointy-toe variety.
Ballerina flats – This pair is absolutely divine in leopard, but they're also $400 bucks. Instead, how about these from QVC? Definitely not as cute as the expensive pair.
Urban sneaker – One of these days I have to bite the bullet and actually commit to a pair of urban sneakers. They all just look so weird to me. What are you supposed to wear them with exactly?