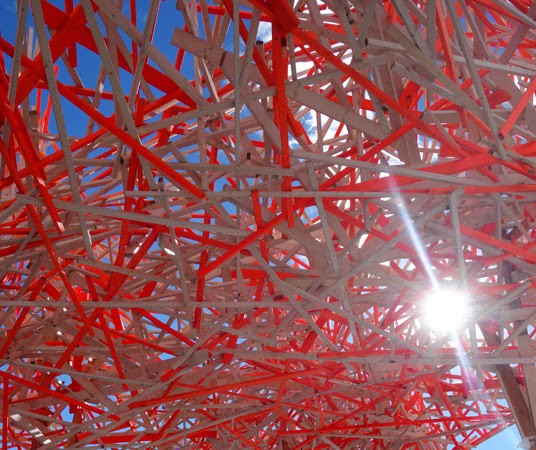 The original plan was to go explore Eze today – but my legs were wrecked from walking all those terraces in Monaco on Saturday. So we stuck closer to home. First stop, the Museum of Modern Art, just a few blocks from the apartment. The plaza is decorated with this massive wood installation.
I love that the museums here are free! The exhibits were pretty interesting. I liked the special collection about artists inspired by Matisse the best. Even if you're not into modern art, you should go to check out the roof garden.
After the museum, we had lunch in the plaza nearby. Lots of French families were out for Sunday brunch.
Our first real adventure in ordering off a menu turned out well. I ended up with a delicious toasted sandwich of poached egg, smoked salmon and an herb cream sauce. Rob went for the brunch menu with herb scrambled eggs, granola parfait and nutella pancakes.
These little vintage Fiat and Citroen cars can be spotted all over the city. Too cute!
Our plan was to take the bus up to the Observatory and gardens that overlook the town but discovered that the line only runs a few times a day on Sunday and didn't want to chance getting stuck up there.
Instead, we walked down the promenade along with what seemed like the whole population of Nice. Dogs, kids on roller blades, bikes, wheelchairs. Everyone out enjoying the sun. We continued along the beach where a big marathon between Nice and Cannes had just concluded. Jean would love to run that! The wind was picking up, so we ducked into the Palaise Massena. A nice man at the gift shop talked with us about his favorite new American composers and how much he loves that cellist that we just saw win a big award at the San Francisco Opera. He said I must have some french genes – which is a compliment, I think? The museum has lovely decorated rooms from the former mansion on the first floor.
So many tiny details in each elegant room.
I particularly liked the oversized murals of the Massena family on vacation in Nice. The older children look bored and the little ones appear as if like they were barely pulled away from the beach and forced into dresses without time to comb their hair. About right for a big family at the beach!
We walked back along the coast and wove our way through the old city before crashing out at home. Dinner of everything we had left in the fridge and a bottle of Bordeaux. We are off to Aix en Provence tomorrow!