From Nice to Aix-en-Provence
As our "travel day" this was supposed to be a pretty boring one – didn't turn out that way! We set the alarm for the first time and woke up at 8:00 am. Nice is an absolute ghost town at that hour. As someone who prefers to not leave the house until 10, I heartily appreciate the schedule. Rob and I cleaned house, packed and set out to find some breakfast.
When it came to cafes open at 9:00 am and on the sunny side of the park, we had exactly one choice. Coffee and pastries for breakfast: apricot for me and apple crumble for Rob.
After eating, we walked through old town to the flower market plaza to check out the antique fair held there every Monday. Looked pretty promising at first glance.
A closer inspection revealed this to be a magical bazaar of full of silver, linens, china and jewelry.
Heaven! I bought a couple fancy silver serving pieces and oogled picture frames and soufflots (the silver clamps attached to the bone in a traditional roast). If I had a bigger wallet and suitcase – a whole bunch more would have been coming home with me. The full sets of silver in chests were particularly affordable. I didn't think I'd have that many photos to share for today, but I figure that you wanted to see this vintage french dollhouse…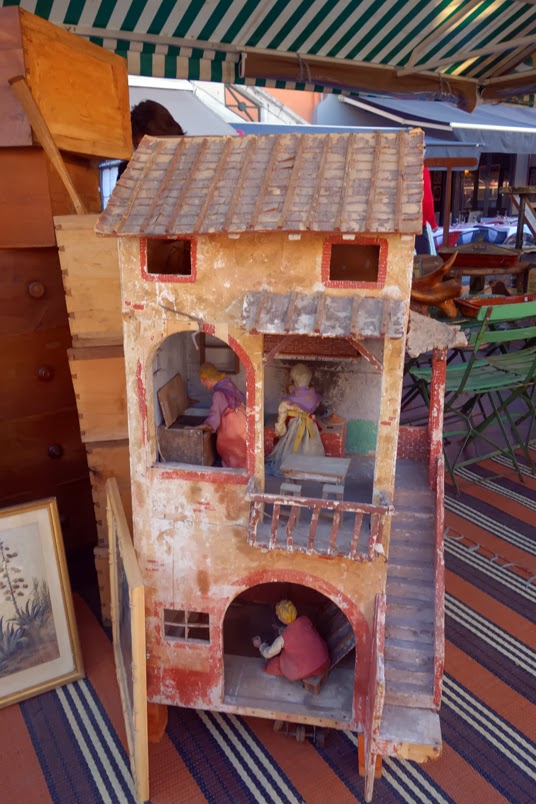 …and to pick out what you would buy from this sample spread. I'm torn between the green china and the gilt mirror. Or maybe the leather trunks?
Rob tore me away from the market in time to return to the apartment and meet our host for checkout.
Tram to the train station and a quick sandwich before boarding the train to Aix-en-Provence. While Rob was fixing the settings on my camera, he caught this goofy shot.
We sauntered up the coast past Cannes and red stone cliffs.
Then, just a small change of degree turned the landscape into pink villas and vineyards.
The train is scenic – but it certainly is slow. By car, this journey takes an hour and a half. By train, you're traveling for three hours plus a 20 minute shuttle bus to town.
Rob and I walked through the city center in Aix-en-Provence with our bags in tow at twilight. Up the hill on the other side to find our new apartment for the week. This little studio is a garden flat in a large home. Our host was impeccably elegant when we met to pick up the keys – complete with a tiny daughter dressed in a tan and blue wool cape and blonde curls. The flat is cute with modern fixtures, antiques and a small garden. Starving at this point – Rob and I headed out right away to eat. The village here is bustling! We wandered the tiny medieval streets.
We finally settled on a little place centered around a fountain plaza. Ordering can be so tricky here – when we asked for a menu, the nice waiter dragged over the whole four foot tall chalk board in French to the table. Even if you speak the language, are you supposed to remember the details of each course you want to order from reading the board outside? I'll conquer this eventually.
We ended up with a steak for Rob in a rich wine sauce and chicken for me with a creamy Roquefort sauce. Delicious! Back home through the cold night. Fall has definitely arrived in Aix-en-Provence and the streets are full of the smells of peat fires and roasting chestnuts.