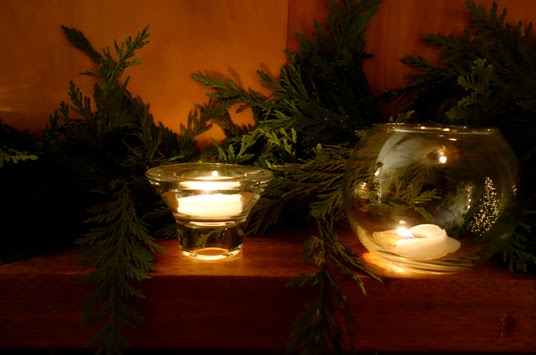 Holiday Housewarming Party without a Hitch
We started this series on holiday entertaining a few weeks ago with the outline for Holiday Party No. 1: A Housewarming for a Small Apartment. Over the weekend, Lauren succumbed to my bossiness and held a wonderful event at her apartment in Noe Valley. The mantlepiece was decorated with a fresh winter garland and candles:
She had the entry hall decorated with a lit wreath and the living room glowing with a Christmas tree. Prosecco was served to guests as they arrived, along with some spanish cheeses, olives and salami.
For dinner, she made a kale salad, crab cakes, shrimp paella and garlic rolls – all delicious!
Great conversation as we ate, seated around the tree in the living room.
For dessert, Lauren baked a gingerbread bundt cake with pear caramel glaze that was out of control delicious. Along with the cake, she also made cookies and guests brought macarons and fresh strawberries.
Really, everyone should make this gingerbread cake right now. It was so good!
At the end of the party, Lauren gave us all jars of homemade mexican hot chocolate trimmings (and slices of the cake to eat for breakfast).
Thank you Lauren for a wonderful housewarming event!