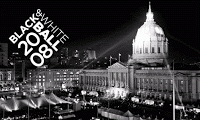 Urban Girl Almanac: Shades of Gray
Only 30 hours until the Black and White Ball. I went to hair salon last night. Rob picked up his tux today. I'm so excited! Here's what I learned this week:
I'm happy with my new blue jacket.
You can bike Manhattan in 32 miles and 4 hours.
I love how comfortable my own bed is after a long weekend away.
I have a weird obsession with white rice lately. I wonder if it means something is missing from my diet?
Yellow and black doesn't always look like this.
Blogs: Aiding in international relations and lingerie smuggling since 2000.
The LOST finale was pretty sweet. More questions!
Keeping up with the Kardashian's should be sponsored by the eyeliner industry.
A big box of greasy Chinese food is a good way to kill the start of a cold.
I'm glad I caught up on my thank you notes.
I heart Etsy.
This short week threw me off schedule.
Friends have invited us over for dinner tonight. I need to shop for false eyelashes and other goodies tomorrow along with making my "fascinator." Sunday will be busy with apartment hunting with a friend. Have a great weekend!