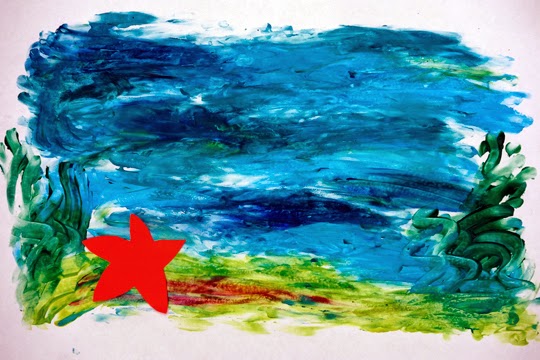 Beach House Activity: Finger Painting
We had two toddlers and a four year old with us at the beach house last week. They loved playing in the sand, swimming and going to the Monterey Bay Aquarium. In the evenings, I put together a couple craft projects for the kiddos to do before dinner. First up: beach-themed finger painting.
In my imagination it was to be an orderly finger painting in blues and greens that we could then top with construction paper shells and starfish.. Voila: pinterest-ready and theme-appropriate craft!
Of course, the reality was a bit more chaotic. Little Ev went with a Picasso-style, full-body paint technique. Thankfully, the paint is super washable.
The final results were so lovely. Ev's included footprints and handprints in a sort-of fish shape.
My niece went with a more tropical color scheme and used the fish to soak up extra paint. Also very pretty!
So, maybe not exactly what I had planned…but even better! We taped the paintings up in the beach house window to enjoy over the next few days.