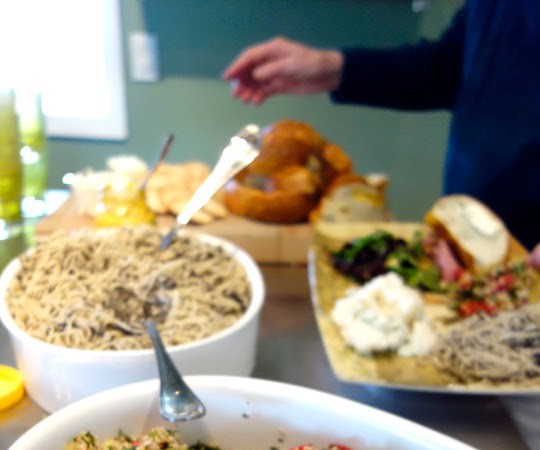 Weekly Dinner Party: Beach House Style
This week's dinner party is a bit different than our standard affair. With the whole family in Pacific Grove at the beach, I took on making a spread of cold salads for dinner. There's a lot of tradition here: we used to visit a gourmet deli called Tutti's in Montecito and each pick out a salad to bring home for a big buffet.
Menu
Black olive pesto pasta salad
Cold cheese and carved ham
Classic potato salad
Green salad with almonds and green beans
Warm cheese herb rolls with butter and soft cheese
I made all three salads the Friday before we left for the beach. The potato salad is your standard potato, celery, onion affair.
The black olive pesto is a Tutti's recipe I've been trying to recreate for years. This time, I made the pesto with chopped black olives, pumpkin seeds, red chili flakes, garlic, black pepper, olive oil and parmesan cheese. The chili flakes are a key ingredient to keep it from being bland.
Finally, a tabouli salad I made for the first time. That lemon dressing combined with fresh herbs is so delicious.
The final spread had a little something for everyone.
Perfect no-prep meal for 10 adults and 3 little ones after a long day at the beach.