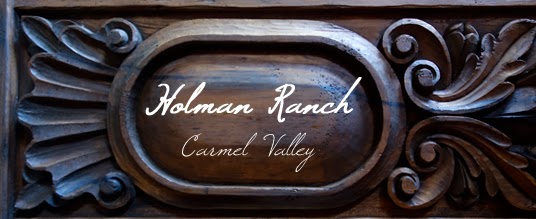 A Visit to Holman Ranch, Carmel Valley
Earlier this month, Rob and I were invited down to Carmel Valley to spend the night at Holman Ranch.
To start, let's talk about the setting: Carmel Valley is tucked up in the hills 20 minutes from Carmel-by-the-Sea, full of vineyards, oak trees and ranches.
Holman Ranch started out as cattle land in the 1880's. In the 1920's it was developed into a Spanish-style hacienda using local stone.
Over the next decades, the ranch was expanded and a swimming pool was added. Charlie Chaplin, Clark Gable and Marlon Brando all passed through. The Holman Ranch website has a great recap of the property's history.
Today, Nick and Hunter live on the ranch and maintain the 10 guest rooms, gardens and event spaces. They also run the Holman Ranch winery, stables and olive grove. Very busy, very kind people!
It would be a beautiful place to get married, with a groomed lawn overlooking the valley.
And a Spanish-style courtyard for the reception.
But I think it would be even more fun as a place for a really special family reunion. With a pool, gardens, all kinds of activities and lounges – it's the kind of place you would want to relax all weekend. They even have workout classes in the barn open to the public. I had a great time trying the Zumba class the morning before we left.
It is so quiet and peaceful up at the ranch.
All those giant oak trees are spectacular.
I'm so grateful to our hosts that we had an opportunity to visit Holman Ranch and learn about the property's history. For more information, visit the Holman Ranch website.