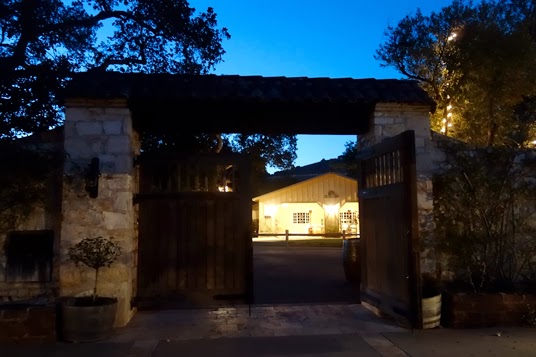 You've seen how pretty Holman Ranch looks by day – now let's take a tour of the historic ranch in Carmel Valley at night. When Rob and I first arrived, it seemed like we had the whole place to ourselves.
The barn was set up for dinner, but there was no one around.
We explored the grounds and the property's hidden courtyards until meeting up with our host, Nick, and the rest of the guests invited that evening.
Our hosts poured delicious wine from the Holman Ranch vineyards while touring the buildings and learning about their history.
Then went out to the barn to sit down for a family-style dinner provided by a local chef.
A great meal with our hosts in a beautiful location. Along with chicken piccata, mashed potatoes and local vegetables, we were also served poached pears with chocolate sauce and plenty of wine.