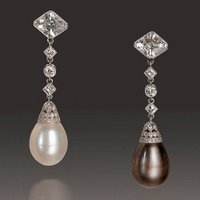 Things I Love Today: Browsing Bonhams
I think the British do antique auctions best. They sell the most gorgeous things! Having more history must help the "supply" side of things. I started browsing Bonhams & Butterfields site because my office is near the auction house and I sold an antique rifle there last year. The British site is way more interesting.
The paintings and antique sales are good but the "fine jewellery" listings are really drool worthy. Of course, I can't afford anything sold there. But it doesn't hurt to look! You never know when you might stumble across a small fortune, after all.
For example, take a look at this diamond tiara and necklace, these black and white pearl earrings and this diamond ring that belonged to the Duchess of Leeds. You can also browse the plain "jewellery" sales for more affordable and still lovely items like this seed pearl brooch.