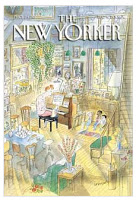 Things I Love Today: J.J. Sempé
Some New Yorker covers are just so brilliant, so clever, so wonderful that you have to sit staring at them for a few minutes. For me, these covers are almost always from French artist J.J. Sempé.
Take for example, this cover from June 2004 with children floating in a wave. Or the drawing posted here of a piano teacher giving lessons in a crowded apartment. Pure bliss!