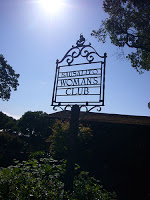 Weekend Round-Up: Open Air
I'm mighty tired today from the weekend! Rob and I walked home from work on Friday and had a quiet evening at home. On Saturday, we woke up early and drove out to Sausalito. We met with two members of the Sausalito Women's Club in charge of wedding coordination. They were really nice and this venue seems like it will be perfect. I'll do a separate wedding update post later.
At noon, we drove back over the Golden Gate bridge, dropped off the car and took the subway to the Bill Graham Auditorium. Matt, Amber and Lindsay were there exploring the Bay to Breakers expo. We registered and picked up some discount coupons on the show floor. We then dropped off Lindsay at her apartment, deciding to drive down the crooked part of Lombard for some reason, and went to Sports Basement (look Jean, they have an online store!) at Crissy Field. Now 2:30, we parked up on Russian Hill and walked down to the Oyster and Beer Festival at Fort Mason. The line to get in was super long and entrance was $19, so we decided to picnic just outside the fence instead.
With rations from Safeway and a great view of backstage, we sat out in the sun for a few hours. Rob and I took the bus home around 6:30 and recovered at home the rest of the evening while watching Manhattan.
Up at 6:30 am Sunday morning for Bay to Breakers. We packed up and took a subway full of runners in costume downtown to meet Matt. It was a gorgeous day and we joined 60,000 racers at the starting line for the tortilla toss. It seemed that there was more nudity this year, perhaps because the weather was nicer? We had a great time walking across the city, spotting great costumes, listening to bands and avoiding nudists. Some highlights include a unicyclist in a pink leotard, an 82 year old grandmother walking with her family and a guy who had dyed and shaved his hair to look like Gorbachev being swarmed by an unaffiliated team dressed like Russians. You can see all my photos here.

We reached Ocean Beach in three hours and 15 minutes fully exhausted. Unlike last year, we figured out how to walk straight to the N train at 43rd street instead of walking all the way down to 9th. Matt joined us for a great lunch at BurgerMeister before peeling off. Rob and I recovered at home the rest of the evening. I watched A Walk to Remember (is there any other movie quite so cheesy and at the same time devastatingly sad?), stretched and napped. We turned in early and slept like logs all night.