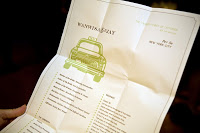 Wedding Wednesday: Programs
Wedding programs: I've usually found them to be a toss piece. Something that I pay little attention to at weddings. But they could be nice, I suppose. I hadn't planned on making them for our event.
But then Jordan offered to do another letterpress run if I changed my mind. And that's an offer too good to pass up. Maybe something a little unorthodox? A schedule of the day combined with a menu and note about the show? For inspiration, I love the poster program that a blogger from Create my Event designed.
Maybe I could do something similar in a three fold about 6″ square? I just made a little post-it note prototype and I think it could work.