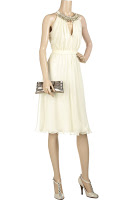 Wedding Wednesday: Second Dress
Frustratingly, my search for a second wedding outfit continues. I found a dress similar to this from Ted Baker but I'm not that fond of it. For $350, it just doesn't quite suit my fancy.
I have it as a backup, but I'm going to do a mega shopping trip this weekend to see if I might be able to find a dress (or trousers) I like better.
Something with a little more classic style and structure. Without rosettes, bowls, rouching, bubble hems or other trendy bits. Something more like this (only in size 12), this (love it, but no longer available in white), this (why so shiny?).