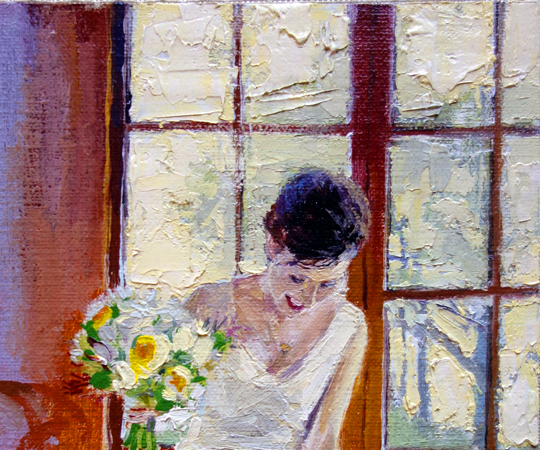 Wedding Paintings Part II: The Reception
Yesterday, I showed you the wedding paintings that Paul Ferney made for the preparations and ceremony at our 2008 event. Today, I'll show you his photos from the reception. Starting with probably my favorite of all the wedding paintings: a small simple portrait in the window seat at the Sausalito Women's Club:
Along with our untraditional choice of a painter instead of a wedding photographer, Rob and I also went with an unusual reception idea. After a family-style dinner, we set up the stage for a two-act variety show with friends and family as the entertainment. Rob and I kicked it off with a ukulele and bass duet. There was tap dancing, trumpet solos, singing. My sister and I did the "sisters" dance from White Christmas – our standard party piece since childhood – complete with ostrich fans.
You're probably thinking something like "oh, a variety show makes sense if you and everyone you know has innate musical talent" – which would be true – and which pretty much none of us had. As, Rob said "we're in love, so you have to clap." The finale was a thrown together jam-session of "Ring of Fire" with a bunch of friends. What it lacked in probably all dimensions of musicality, it made up for with lots of charm:
Rob and I departed to a sing-along version of "happy trails."
There's even a painting from after we left with the guests winding down in the cool Sausalito night with cold bottles of Limonata.
Our wedding was so fun! A quirky, memorable day that was a perfect start to our marriage. Thanks again to Paul Ferney for this amazing set of wedding paintings.