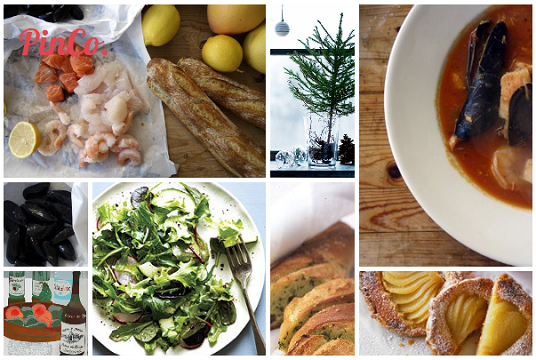 Holiday Party No. 9: Casual Cioppino Sunday Lunch
There comes a moment, on these busy holiday party weekends, where you realize you haven't eaten anything but spinach dip and fudge in about 36 hours. A nice leisurely weekend lunch is just the thing to get you recharged on real food. A couple weeks ago, I made cioppino for Sunday lunch with my parents.
Guests. A close set of friends or relatives. This recipe scales easily, but a party of 4 or 6 will be more relaxed.
Decor. Set the table with placemats and festive cloth napkins. Short glasses for wine and everyday dinnerware.
Menu. I keep a bunch of leftover cioppino tomato stock from our annual earthquake party in the freezer. With this classic San Francisco recipe on hand, all I needed to do is heat it up and add fresh salmon, white fish, shrimp and mussels. You can also add crab, clams, scallops, calamari…any kind of seafood. If you're starting from scratch on the cioppino, you'll need to account for more chopping and simmering time. It would be easiest and tastiest to prepare the stock the night before. Along with cioppino, we served warm garlic sourdough bread, a green salad with avocado and a pear fragnipagne tart from Trader Joe's.
Drinks. A nice bottle of red wine. I like Cote du Rhone with cioppino.
Activity. None. Just conversation, relaxing and eating good food.
Budget. Because you're buying such small portions of seafood, the cost is surprisingly low. We spent about $20 on seafood, wine, bread and other supplies.
All photos and details available on the Holiday Party Pinterest board. Have your own party request? Leave it in the comments.