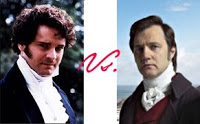 Is Brandon the New Darcy?
I got completely hooked watching the second half of Sense and Sensibility on PBS last night. You would have thought I was watching the final four with all the booing and cheering.
In this longer version of the Jane Austen story, the action revolves much more around Colonel Brandon (The Ang Lee movie is all about Edward Ferrars). He's a serious Darcy contender. Time for an Austen battle royale:
First Impressions
Darcy is rude and snobby.
Brandon is old and stodgy.
Point goes to Brandon for at least being friendly from the start.
Talents
Darcy = Swimming.
Brandon = Falconing, hunting and planning picnic outings.
Point goes to Brandon. I love a good picnic outing.
Looks
Wealth
Darcy has £10,000 a year and Pemberly.
Brandon has £2,000 a year, Delaford and a military career.
Point goes to to Darcy, I think.
Challenges
Darcy has mean relatives and a bad friend who spreads rumors.
Brandon was prohibited from marrying his first love who later dies penniless.
Point goes to Brandon.
Honorable Action
Darcy secretly saves Lydia and the reputation of the Bennet girls by bribing Wickham to marry.
Brandon tries to warn the Dashwoods about Willoughby, provides for Willoughby's illegitimate wife and child, sets up Edward Ferrars with an income so he can eventually marry Elinor.
Hmmm…This one is close. I'll give it to Brandon on quantity of people helped.
Romance
Darcy is awkward, has to clear his reputation and win over Elizabeth with a good deed.
Brandon patiently waits for Marianne and wins her over with endurance and sweet gestures.
This one is impossible. Both get a point.
Let's tally the results: Darcy has earned 3 points vs. Brandon's 5. Brandon really is the new Darcy! Do you agree? PBS has a hilarious interactive guide to Austen men online where you can vote for your favorite.