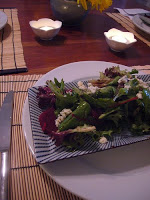 Beets are bright and earthy. They taste like spring! And they're great for you. If you're careful, you can easily make them without dyeing your whole kitchen pink. Our salad last night was inspired by the kind that almost every restaurant in the city seems to have right now:
Beet Salad (for 4)
1 medium red beet
1 medium golden beet
Mixed greens
1/2 cup of good quality blue cheese, crumbled
Balsamic vinegar
Olive oil
Onion salt
Fresh pepper
Peel the beets with a knife or potato peeler and slice into thin rounds. I find it fastest to microwave the slices, covered, in a little water for about 3 minutes. Roasting in the oven takes about an hour and can be messier. Cook the different colored beets separately so they don't dye each other. Let them sit in the hot water until they are soft enough and then drain.
Arrange the beet slices carpaccio-style on a salad plate in alternating colors. It is fine if they are still warm. Top with a green salad tossed in a balsamic vinaigrette (go a little heavy so the dressing can trickle onto the beets). Top with pepper and a hearty helping of blue cheese.
Yum, I could eat this everyday!