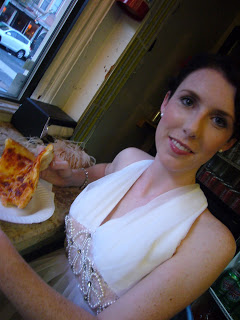 Weekend Round-Up: Arias and Rains
Opening night at the opera was great fun. Rob and I got dressed to the nines after work and grabbed a slice of pizza (tradition!) on our way to the opera house.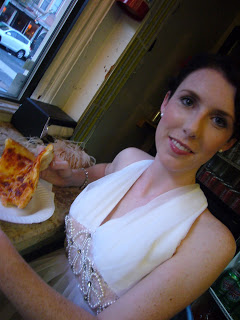 We were a bit late, due to my poor planning, but still enjoyed the opera and all the gowns. Il Trovatore had amazing staging inspired by Goya. In tuxes and tafeta, the hall all poured out into the night after opera. Rob and I had dessert and drinks at Home before turning in. My inexpensive vintage dress worked out perfectly!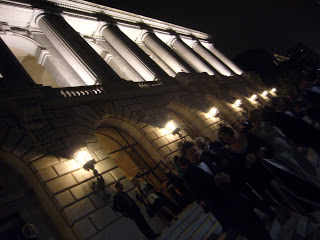 Surprising thunder and rainstorm the next morning. A great excuse to have breakfast under quilts and be lazy for a few hours. At 11:00, we braved the weather in sweaters and wellies on the tandem bike. A round of errands including the fabric store and produce market. Back at home, I worked on a cake topper for Jean's wedding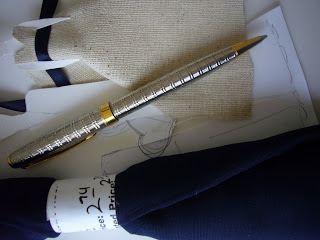 Our friends from Davis, Jackie and Pierre, arrived at 2:30 and we had lunch together at the house. I dropped them off at the park and visited with Meg and David for an hour. The photos from their honeymoon were so cute! At 5, I met with Jackie and Pierre again for coffee at the de Young Museum in the park. After, we walked through the foggy rose garden and smelled every variety to find the best: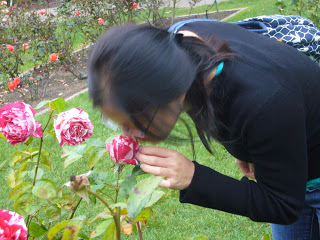 Back at the apartment, Margaret came up from the peninsula. We had hot toddies to warm up and then went to Axum for an Ethiopian dinner. It's-its for dessert at home to cap the evening. Jackie and Margaret spent the night.
The next morning, we had tea and oranges for breakfast around the table. And then set out for a little shopping. Buttery pastries from Tartine Bakery and then good finds at Therapy on Valencia and Sunhee Moon on 16th. At 1:30, we went to Golden Gate Park with a picnic to see the free opera show.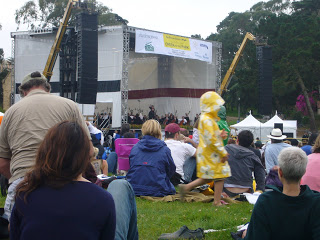 It was unusually warm with a little light rain – some sort of tropical storm is passing through. Great opera and lots of cute kids running around the lawn. We walked back home down Haight Street with the girls and watched a little more Pride and Prejudice (it's a serious addiction).
It started to rain hard in the late afternoon. I love it! Our visiting friends went out to a jazz show. Rob and I decided to stay home with the rain and cozy dinner delivery.

You can see all my photos from the weekend online.