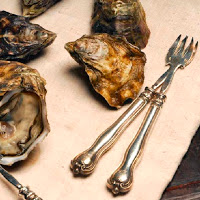 Culinaire is a thing of beauty. This antique store in San Francisco's ferry building carries the best of every thing related to cooking, wine and the kitchen. Everywhere you look in this store, it's another absolutely perfect item. Over here, the most amazing copper pot…over there, the set of oyster forks you never knew you needed to own.
And to make matters even more tempting, there is another antique French kitchen shop near my office (what are the odds?). The Butler & The Chef specializes in furniture and larger items. All of it stunning.
Of course, the prices match the perfection! If I was a millionaire, I would buy everyone on my list Christmas presents from Culinaire and then decorate my mansion from Butler & Chef. Since I'm not, I'll just continue to drool and be inspired.