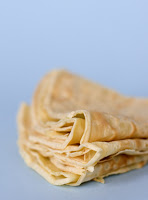 We had a crazy city food day yesterday. Japanese ramen for lunch. Coffee from Pete's for a break. Cheap tacos from the Mexican wagon across from the gym after work. Pints at Elixer Saloon. And finally, crepes and fries at Frijtz on Valencia Street.
This new Belgian spot has earned its popularity with 20 kinds of dips for fries, mussels, sandwiches and really good crepes. We shared the "rothko" crepe with butter and sugar. Yum!
But $6.50 for what accounts to a pinch of flour, egg and sugar? I need to learn to make my own crepes at home. Julia Child's recipe doesn't seem too hard. I'll test it out this weekend.