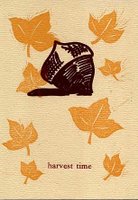 As you know by now, fall is my favorite season and I've gone a bit nuts with celebrating since September 1. As part of my "hooray for fall" campaign, I sent out some letters last night. I decorated the custom note cards with drawings of bright fall leaves, pumpkins and rakes.
Of course, I forgot to take a picture of the final results before stuffing them in envelopes. You'll have to trust me that they were pretty cute. I sent them to some friends in far places and people I haven't talked to lately. I think I'll make a few more tonight, maybe using crayon shavings, wax paper and an iron to create colorful leaves to glue on the card. I was in kindergarten last time I tried this!
If you aren't so artistically inclined, you can also find some cute fall cards online. This "harvest time" card is adorable.