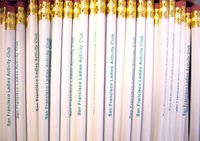 Things I love today: Pencils!
500 white pencils printed with "San Francisco Ladies Activity Club" just arrived at my office! I am so happy with the results. This whole order was only $50 and took just a few weeks to arrive from Inkhead.com.
I'm going to tie the pencils into bundles with ribbon and give them away as favors at the club's big anniversary party! This idea would also be really cute for a shower or even as wedding favors. The site I ordered from has all sorts of pencil and ink color options available.
My order of unpainted picture frames also arrived a few days ago. I was really impressed with the quality of these frames. I certainly wasn't expecting much for $14.95 from Oriental Trading Company! Now all I need for the party is food, drinks and flowers!