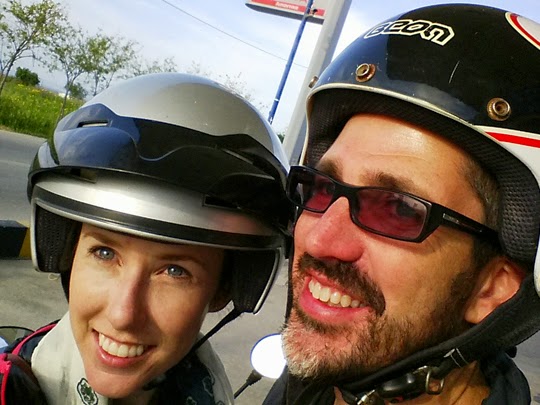 The Tiny Red Scooter Rides Again, Part II
One of the upsides of my trademark no-planning travel style is that we're often quite surprised by what we find along the way. Kos is basically un-Google-able thanks to the Greek alphabet, which only adds to the mystery of our explorations.
The town was massive, with churches, monasteries and a fresh creek running through the whole thing. We then hiked up to the castle on the very top of the rocky mountain. This is the original Byzantine gate overlooking the coast.
We found an open taverna on a terrace behind a Greek Orthodox church and ordered two drinks based on the owner's recommendations: a fresh lemonade and a sweet cinnamon drink that is a specialty of Kos.
Not wanting to ride home in the dark, we dipped out before the sunset and hiked back to our bike to ride home.
Altogether, we spent more on gas than the scooter rental itself (Rob smartly thinks the gas stations should rent scooters for free, they'd make a killing!) and got a real feel for the Greek Island of Kos in a single day, as promised by the brochures!