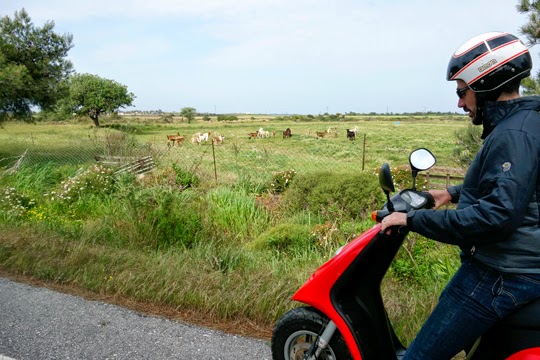 Seeing the Greek Island of Kos on a Tiny Red Scooter, Part I
There's a lot of tourist information here about being able to see all of Kos in a single day. Rob and I had Sunday off work and, while super windy, we were still a day ahead of the big Saharan storm. So, on to a tiny (so tiny) scooter for a day-long adventure. We rented this 80cc scooter from a shop near our apartment for just $18 for the day.
Not exactly a high performance speed-machine, our scooter wouldn't idle without the engine cutting out. Rob had to gun it all the time Keanu-Reeves-in-Speed-style, even downhill, except that our top speed was only 35 kph. No muffler or exhaust system to speak of. This scooter is best optimized for using as much gas as possible, as loudly as possible…and being really really fun!
We first rode about 25 minutes south to the town of Kefalos on the base of the island. When we ducked in to a local coffee shop to warm up, the group of retired men there greeted us like we came in everyday. The men continued debating and counting their prayer beads while a nice waitress brought us sweet "Greek coffee" with cheese/tomato sandwiches. She then set out to show us exactly where to go and what to see on our motorbike. I love how friendly + bossy locals often seem to be in Kos!
After heating up, we rode out toward a monastery she recommended…and promptly got lost and started running out of gas. We explored the ruins of an old Greek Orthodox church overlooking the bay instead. Coasted back into Kefalos just in time for a fill-up.
Next, we went down to the beach to watch the angry sea from the site of the Byzantine castle made from ancient ruins. In the summer, you can swim out to the island and its tiny blue and white church.
From Kefalos, we cut over on a dirt road through to Mastichari and found ourselves in the Plaka Forest peacock reserve.
Every wondered what it would be like to have 30 majestic wild peacocks swarm toward you looking for bread? This would be your chance!
By now, it was time for lunch and we arrived in the village of Mastichari, where it was warmer and less windy.
Rob and I grabbed a table at a seafood restaurant full of Greek families and blindly ordered a couple plates from the menu. First up, a delicious cold salad plate with spicy cheese, taziki, tuna salad and octopus salad. I don't think I've ever been brave enough to try octopus before, but dove right in.
Luckily, the octopus salad was good because our second dish came out featuring big fresh grilled piece along with squid, some kind of fried sea bass and whole fried smaller fish. Everything was delicious, especially the octopus, cooked in just olive oil.
Charged up, we headed up to the hillside villages next. Got a little lost on the outskirts of Pyli and stopped to look at the wildflowers.
Stay tuned for Part II next, full of abandoned mountain-top castles, goats, sunset terraces and more running out of gas!