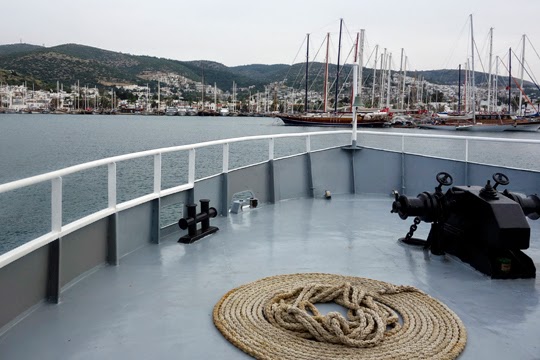 On Saturday morning, we packed up to catch the 9:30 ferry from Bodrum, Turkey to Kos, Greece. A storm had blown in overnight and it was uncharacteristically overcast. Bought our ferry tickets for $20 each and went through the exit immigration check points.
Normally, this ferry takes just 20 minutes, but the seas were stormy and the voyage took more than an hour instead. The ferry dock in Kos is right next to the bar entrance to the harbor – which must be fine in normal weather. In this storm, passengers had to quickly jump from the side of the rocking ship to the dock instead of using the normal ramp. A bit of adrenaline! We went through EU customs in the Greek port and across town to check in to our inexpensive apartment.
Even though we're still so close to Turkey, it is very quickly apparent that you're in a new country here. Kos town is more agrarian than Bodrum, with goats, sheep and cows in every empty lot. Also, we're amazed at how much English is spoken here. The town seems much more shut-down at this time of year than Bodrum was, but it's hard to tell how much of that is due to the economy or to the storm.
It's a rockier terrain with pine trees in the hills and softer sand on the beaches. The wildflowers are the same.
The main difference is the food. I haven't been able to find the kind of amazing produce we had in Bodrum yet, but the food we've had in restaurants here in Kos has been SO good. Rob and I were starving when we sat down to a cafe in the main plaza and ordered meat filled warm dolmas with yogurt, spinach pie, cheese pie, tomatoes, cucumbers, smoked herring, spicy cheese dip, roe dip, beet and yogurt dip, olives and pickled eggplant. The cheese pies are exactly like what my college roommate's Greek mother would bake.
There's also no more calls to prayer here – the old mosque has been converted to just a monument.