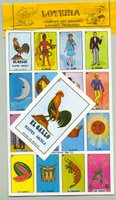 Urban Girl Tip: Must-know Spanish phrases
I was once fluent in Spanish. I attended a Spanish elementary school and learned to write in Spanish before English. However, the brain is a mysterious muscle and years later I can barely remember any phrases. I wish I still had those language skills! Instead, I have to rely on Babel Fish to help me communicate with our housekeeper, Juana. Here are some phrases I have found useful lately:
No limpie por favor esta tabla. Es muy delicada. (Please do not clean this table. It is very delicate)
¿Usted lavaria los baseboards esta semana? (Would you wash the baseboards this week?)
Comprare mas blanqueo para usted. (I will buy more bleach for you)
No se porque nunca tengo toallas de papel. (I don't know why I never have paper towels)
¿Donde usted puso el tamiz? (Where did you put the strainer?)
Usted es la mejor ama de casa del mundo! (You are the best housekeeper in the world!)
Muchas gracias Juana!