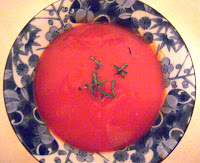 Mmm….We had the best dinner last night! Matt came over and I decided to finally complete that tomato soup I started with the tomatoes we picked in Fresno. I paired it with grilled cheddar, apple and bacon sandwiches and a salad. I'm not usually a fan of tomato soup but this batch made me a believer!
Tomato Soup
About 2 pounds of fresh, ripe tomatoes (cherry are good because they often have more flavor)
1 onion
1 small potato, grated
1 tablespoon fresh chopped basil
1/2 teaspoon fresh garlic
Salt & pepper to taste
Chop the tomatoes and onions coarsely. Cook down the tomatoes and onions with a bit of olive oil in a large pot. You can freeze this mixture once it is cooked and save it for a later date.
Add the grated potato and spices and simmer for about 10 minutes. Use a hand mixer to blend the soup until there are no large chunks. Strain the resulting mixture with a fine sieve over a bowl to remove the seeds and other large pieces. Your final result should have a nice bisque texture. Return to stove top and complete your seasoning. Serve with a sprinkle of fresh basil and parmesan. Serves four. Lycopenerific!