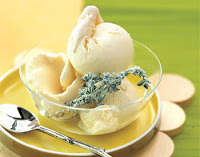 Things I Love Today: Ice Cream
Watch out world, I have an ice cream maker!
I got to open my big Christmas present at home last night (because it wouldn't fit in the giant waterproof duffel bag full of gifts that we strap, santa-style, to our Miata trunk rack each year). Rob bought me a stainless steel cuisinart ice cream maker. I am going to make soo much ice cream! Here's the recipes I want to try first:
Yum! I can't wait to try this out at our next dinner party.