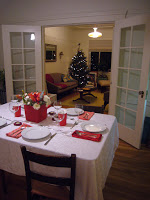 I'm going to be out of town and offline for the holidays Friday through Thursday. We're going to my friend's wedding tomorrow night. And will then be celebrating Christmas with my parents, sister, sister's boyfriend, brother, nephew and aunt. It is a full house this year!
Our family holiday traditions involve a lot of relaxing, dungeness crab, sailing (weather permitting), talking to the dog, Williams-style worrying, cranberry bread, ice skating on TV and tea. It's really a lovely mix and I am looking forward to being home!
Merry Christmas, happy Hanukkah and see you next week!