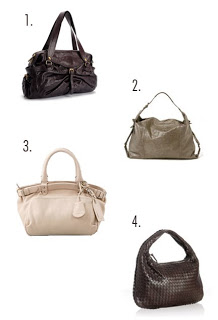 Coveted: Expensive Purses
I know that technically I can afford some of these lovely handbags…but I could never actually bring myself to fork over the money. But, what if:
1. Kooba Katy Bag – $645.
2. Riverstones Bag – $248.
3. Vanessa Bruno Tote – $628.
4. Bottega Veneta Hobo – $1,304 – Urban Outfitters made a knock off of this last season that I bought in white. Close in appearance, terrible horrible smelling.
How I'd love to have a shiny new purse…