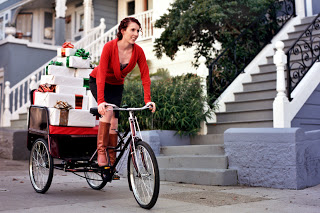 Advent Calendar: December 21
This is the last advent calendar post before I take off for the holidays! In honor of that, I've chosen Rob's fantastic Christmas card photo as our final picture:

It is a tradition each year for Rob to stage an over-the-top photo of me for our Christmas cards. Last year it was in Union Square at night. The year before that it involved a 6 foot tall chainsaw and a pine tree. It is one of the perks of living with a photographer. This year's photo is one my all-time favorites! Happy Holidays!